Specialty Pest Management Services In San Tan Valley, AZ
Learn more about the residential and commercial pest control services Ozone Pest Control offers home and business owners in the San Tan Valley area. This reference page highlights the pest control solutions we offer to help maintain Arizona homes and/or businesses. Use this overview to learn more about Ozone Pest Control's effective solutions to solving problems with weeds, insects, and birds.
Bed Bug Treatments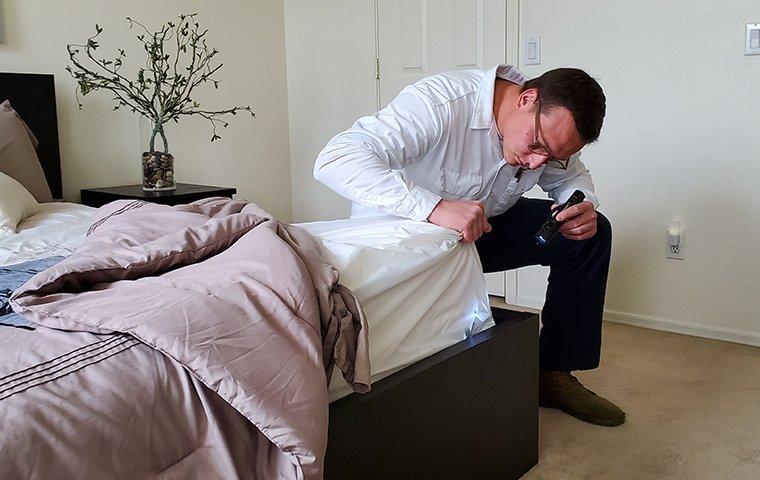 Bed bugs are prolific pests that hitchhike from place to place on people's clothing and belongings. These apple seed-shaped pests live in every state in our country and move into our homes without invitation or notice. Once inside, they breed quickly and soon not only take over our bedrooms but other areas of our homes as well. The best solution to a bed bug problem is a professional solution. At Ozone Pest Control, we provide the services needed to get rid of bed bugs in homes or businesses at every stage of life: adults, nymphs, and eggs. Complete eradication needs to occur in order to prevent a reinfestation.
Protect your home and family from biting bed bugs with the help of the professionals at Ozone Pest Control. We offer bed bug treatments that eliminate all stages of bed bugs and allow families to sleep soundly at night. Our bed bug control services include free bed bug inspections, and we use heat treatments. Our bed bug heat treatment process offers a pre-treatment prep sheet, treatment, single-room treatments, and canine inspections upon request.
No one wants to discover bed bugs in their home or business, but know that if bed bugs ever do find their way inside, Ozone Pest Control can help. We will provide the services needed to completely get rid of bed bugs with the help of our trained, experienced, and dedicated professionals. To learn more about our bed bug control services, give Ozone Pest Control a call today.
Mosquito Control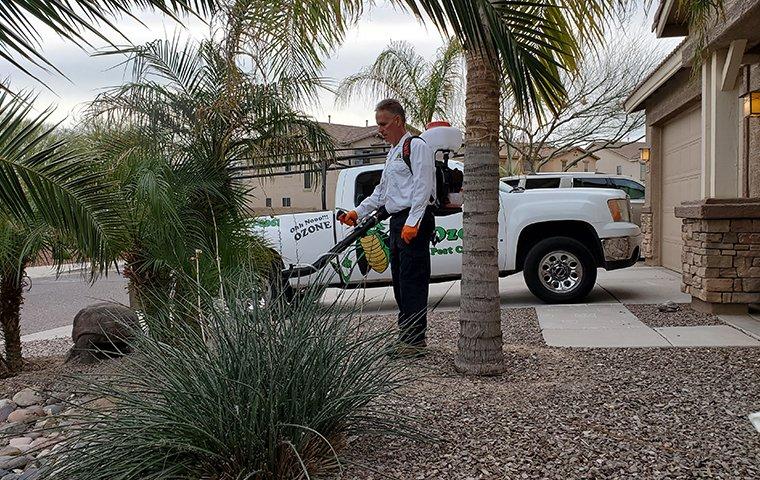 Living, breeding, and feeding outside, mosquitoes can find their way onto any property, where they become a considerable nuisance and threat. Female mosquitoes bite and feed on the blood of people and animals. Their feeding habits allow them to carry and transmit a wide variety of diseases and parasites that cause significant health problems in people and our pets. The best way to reduce mosquito numbers on your property, and enjoy your outdoor space to its fullest, is to partner with Ozone Pest Control.
Mosquitoes thrive in hot weather and areas of standing water. To combat mosquito populations, we offer effective mosquito control fogging treatments. Our professionals use gas-powered backpacks to treat yards – spraying under and near trees, shrubs, and other foliage. Depending on the situation, areas of standing water may also receive treatment. This service may be completed as a recurring monthly service or as a one-time service. In addition to our professional mosquito control services, you can help to reduce mosquito populations by eliminating as much standing water from your property as possible.
If you are tired of dealing with mosquitoes, we are ready to help! For superior mosquito protection for your San Tan Valley area home or business, partner with the trained professionals at Ozone Pest Control. To get started protecting your family, friends, employees, or customers from biting mosquitoes, contact Ozone Pest Control today.
Pigeon Control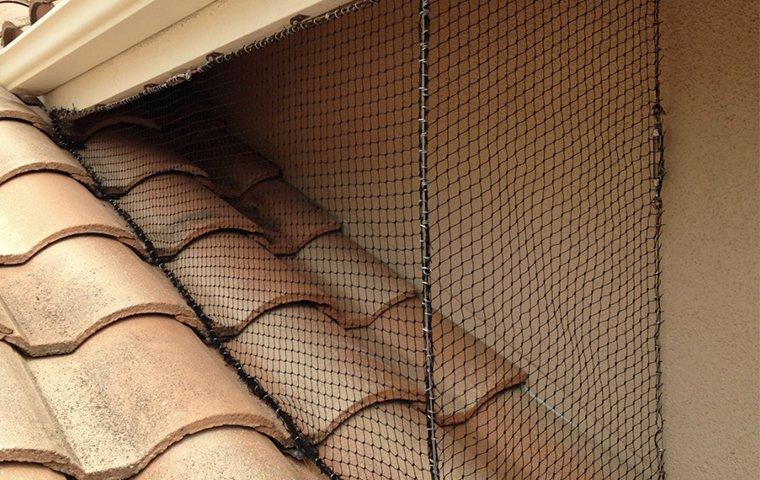 Pest birds such as pigeons cause big problems for home and business owners. They nest and roost in and on our homes and businesses, causing structural damage, spreading disease, and leaving unsightly piles of excrement on the ground below. Pigeons live and breed outside and are a challenge to control and keep off of our properties. The best way to prevent problems with pigeons is to be proactive and partner with bird control experts, like those found at Ozone Pest Control.
Pigeons live successfully in both rural and urban settings, coming to somewhat depend on people for some of their food and shelter sources. These birds want to live near us, making controlling them difficult. At Ozone Pest Control, we offer a variety of pigeon control services that eliminate pigeons from homes, businesses, and government facilities. Our pigeon control options include the use of bird netting, bird spikes, and hardware cloth (a type of wire mesh). To learn more about our bird control options, contact us today, and schedule an free initial inspection.
The best way to handle problems with pigeons is to contact a professional. At Ozone Pest Control, our professionals understand the pigeon's life cycle, breeding habits, and behaviors, and therefore can provide the best control measures possible. For property owners looking to solve their pigeon problems once and for all, reach out to Ozone Pest Control today.
Scorpion Control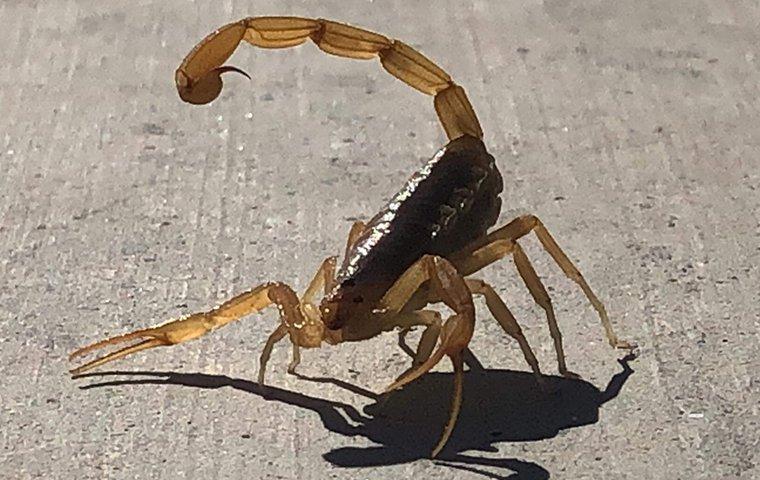 Are scorpions becoming a problem in or around your home? Here at Ozone Pest Control, we can have our expert technicians eliminate any scorpions that have gotten onto your property and keep them from getting back inside through our comprehensive scorpion control and sealing service.
Our scorpion control process begins with a full inspection of every level of the interior and exterior of the home performed by our trained technicians. During this inspection, we'll go through an extensive checklist that ensures they check all the potential places throughout the home and yard where scorpions might be able to get inside; this inspection takes about an hour to complete.
After inspecting the premises, we'll get to work sealing the interior and exterior of the home to eliminate any potential scorpion entry points. The exterior of the home is sealed with clear silicone weatherstripping on the doors, as well as other products, while the interior is sealed with white silicone with clean lines to leave a nice finish. Bathroom vents are screened to prevent scorpions from getting through and holes in the attic are sealed using steel wool and expandable foam for maximum protection.
After sealing the home, the exterior thresholds and attic of the home are thoroughly dusted for scorpions to eliminate any that might already be inside. This scorpion spray is also applied to cracks and crevices found around the exterior of the home. Unlike typical scorpion control, Ozone's scorpion control methods kill the scorpions themselves—not just their food sources. Our service will eliminate any scorpions already present in your home or yard and seal your home against any potential scorpion invaders in the future.
Ozone provides all clients with a consultation to fully explain our scorpion control and sealing process, answering any questions they might have while eliminating any concerns. After inspection is complete, our technicians provide the client with a copy of the inspection report. This report includes the inspection and treatment checklist should they choose to do the treatment themselves in the future.

Total price for the inspection and report typically costs $65 for most homes, and is later deducted from the service price. This service offers the most thorough inspection offered by Ozone Pest Control. The entire process takes about a day to complete, with no client preparation required prior to service.
Don't leave your home at risk for scorpions one more day. Contact the scorpion control experts at Ozone Pest Control today and keep your home scorpion-free!

Termite Inspections & Treatments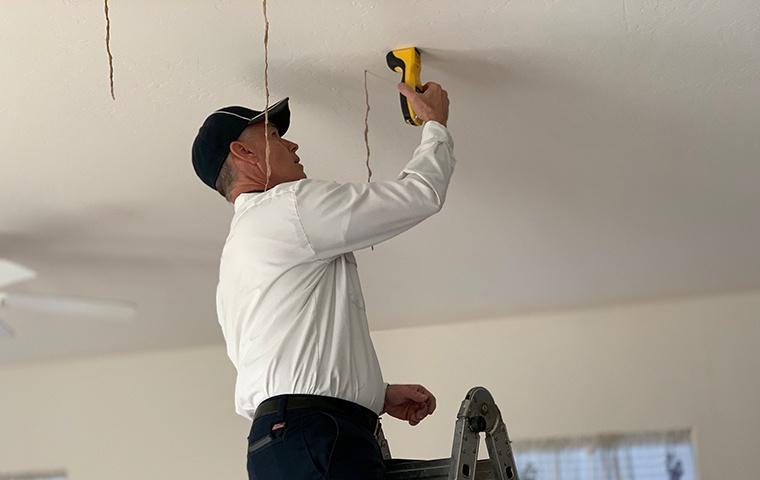 In Arizona and throughout the United States, the subterranean termite is the most common species of termite to invade homes and businesses. Each year, across the country, these wood-eating insects are responsible for causing over five billion dollars in damages. Here in the San Tan Valley, termites thrive in our hot climate, working and feeding on wooden structures year-round. To protect your Arizona home or business from wood-eating termites, it is best to partner with experienced, local pest control experts. If you live in the San Tan Valley area, reach out to us at Ozone Pest Control, and we'll work together to protect your property from termites.
At Ozone Pest Control, we protect both residential and commercial properties from destructive termites through our effective termite control services. We offer a wide variety of treatment options, including free inspections, free proposals, and pre-construction treatments. We treat and eliminate termites using Termidor®, and we utilize Termatrac to see inside of walls and pinpoint where termites are entering.
We are certified to treat properties with Termidor®: America's number one termite defense product. This liquid termiticide/insecticide is odor-free and undetectable. Termites ingest the product and bring it back to their colony without hesitation. Our professionals apply Liquid Termidor® along the foundation walls or exterior perimeter of your home. Our termite control service is warrantied and gives you peace of mind knowing that current termite problems will be eliminated and protection against future infestations provided.
Weed Control Services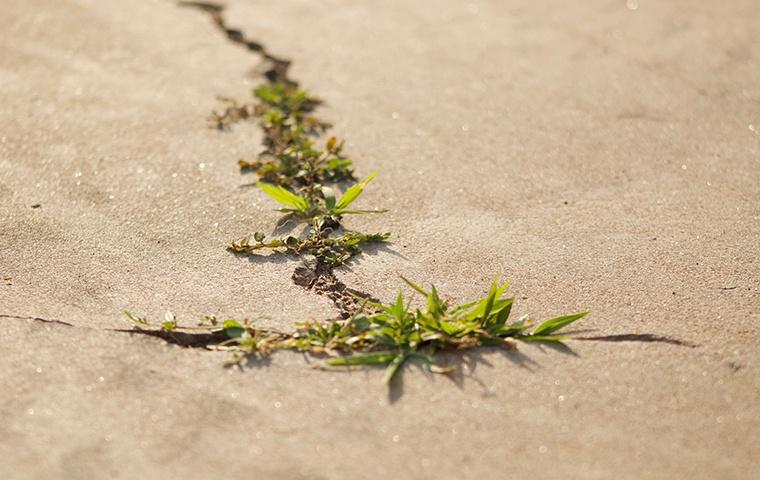 Arizona is known for its hot, dry, desert climate. When living in Arizona, you won't have a yard filled with lush green grass; instead, surrounding our homes and businesses are desert-scapes. Comprised of rocks and plants that grow well in dry, hot conditions, these unique landscapes are a beautiful sight.
In order to keep desert-scapes looking their best, they must be maintained and free of weeds. At Ozone Pest Control, our professionals provide the weed control services needed to keep outdoor spaces in the San Tan Valley area healthy, weed-free, and looking their best.
Our professionals understand the life cycle of weeds and know which herbicides work best. Our weed control services include the use of both pre-emergent and post-emergent sprays. Pre-emergent treatment is when a spray is applied to the ground to prevent weed growth. Our post-emergent treatment is also a ground spray. It works to kill weeds within days and lasts up to six months. Our weed treatment is available for both residential and commercial properties, helping any desert-scape to look its best! With our help, your outdoor space will be well-cared for, without you having to take time out of your busy schedule.
Keeping your Arizona desert-scape looking its best and free of weeds is a job best left to the professionals at Ozone Pest Control. To learn more about our weed control service, reach out, and speak with one of our helpful professionals today.
Complete the form below to schedule your service.